Kenji Miyazawa Ihatov Museum Special Exhibition "'Night on the Galactic Railroad Fourth Draft Edition' Reproduction Original Exhibition"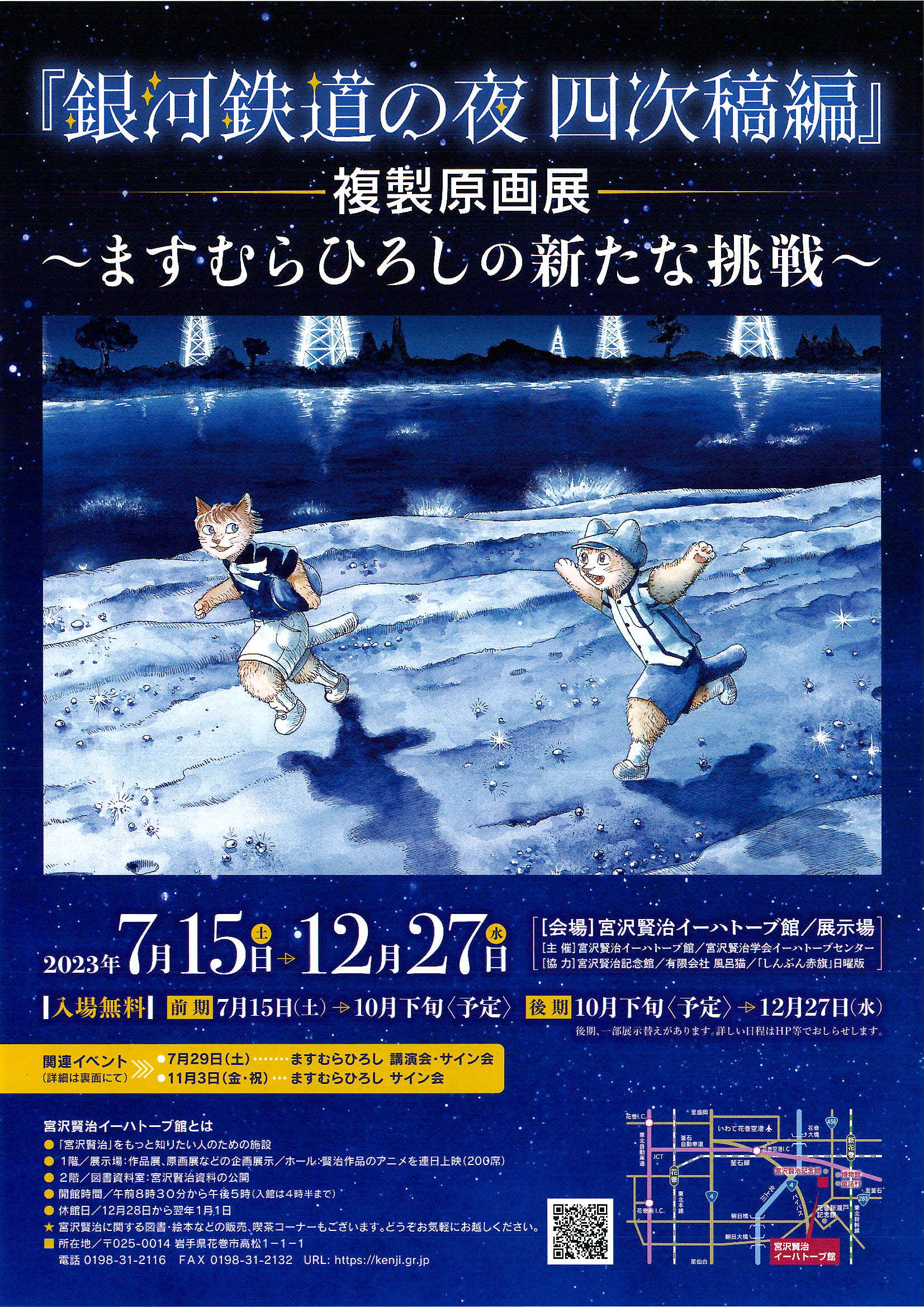 ~ Hiroshi Masumura's new challenge ~
First half: July 15 (Saturday) to late October (planned)
Second term: late October (planned) to December 27 (Wednesday)
Cooperation: Furoneko Co., Ltd., Shinbun Akahata
Kenji Miyazawa's "Night on the Galactic Railroad" is an unfinished work that has undergone many revisions. Among them, the manuscript presumed to have been touched by Kenji at the end is called the "fourth manuscript."
Hiroshi Masumura has turned many of Kenji's works into cartoons using cat characters. "Night on the Galactic Railroad" was made into a manga twice in 1983 and 1985, and 30 years later, in 2016, a new serialization of "Night on the Galactic Railroad 4th Edition" began. rice field. It is a masterpiece consisting of 4 volumes and about 600 pages. In this exhibition, we will use reproductions of the original drawings from this third manga adaptation, "Night on the Galactic Railroad, 4th Draft Edition," focusing on the points where Masumura's new challenges stand out, and enjoy its charm. I will do my best to get it. Please take a look at the world of the new Masumura version "Night on the Galactic Railroad".
* In the second half, while changing some of the exhibition contents, we plan to introduce the contents of the latest publications (Volume 3, published in May 2023, Volume 4, scheduled to be published this fall) along with reproduced original drawings.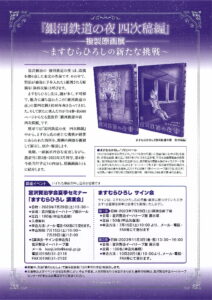 Holding period
2023/7/15~2023/12/27
Open time
8:30 a.m. to 5:00 p.m. (Admission until 4:30 p.m.)
Venue

Kenji Miyazawa Ihatov Museum

Address
1-1-1 Takamatsu, Hanamaki City
Parking
21 cars (free)
Access
Approximately 2 km from Shin-Hanamaki Station on the Tohoku Shinkansen, 3 minutes by car. 4 minutes by Iwate Prefectural Transportation bound for Ito-Yokado. Get off at "Kenji Kinenkanguchi" and walk 5 minutes.
Price
free
Contact
Kenji Miyazawa Ihatov Museum

Phone: 0198-31-2116

Fax: 0198-31-2132
HP
Click here for official website and other related sites

※Event information is subject to change. Please see the official website for details.