"The road to becoming a trainer who supports top athletes" seminar information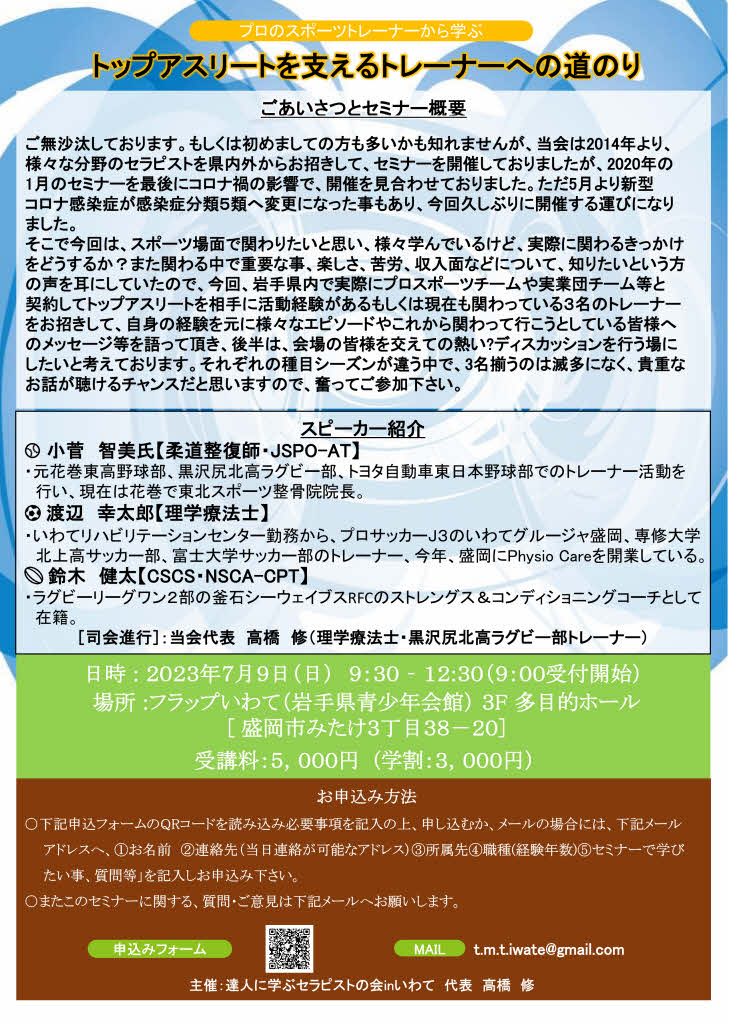 Information about our upcoming seminar
For details, please refer to our FB page (
https://www.facebook.com/tatsujin.iwate
) and apply for participation.
Three people who are active as trainers who support top athletes in each sports field, while the season is different according to each discussion,
I think it's a valuable opportunity to listen to the story together, so don't miss this opportunity.
Theme: "The road to becoming a trainer who supports top athletes"
Venue: Flap Iwate (Iwate Prefectural Youth Hall) 3F Multipurpose Hall Date: July 9, 2023 (Sunday) 9:30-12:30 (Reception opens at 9:00)
Tuition fee: 5,000 yen (student discount: 3,000 yen)
Application method: Refer to flyer
Eligibility: Anyone interested in becoming a trainer, regardless of occupational age.
40 people
*There seems to be a problem with the application form, so in that case, please contact the association's email address (tmtiwate@gmail.com).
In the e-mail at that time, ① your name ② affiliation ③ occupation (years of experience or school year) ④ what you want to learn at the seminar ⑤ payment method of the tuition fee (bank transfer or cash payment on the day)
Please specify and apply. Please feel free to contact me at the same address with any questions or concerns.
Holding period
2023/7/9
Open time
Opening 9:00

Start performance 9:30~12:30
Venue

Flap Iwate (Iwate Prefectural Youth Hall) 3F Multipurpose Hall

Address
3-38-20 Mitake, Morioka City
Parking
Free parking available
Price
General 5,000 yen Student 3,000 yen
Contact
Meeting of therapists learning from masters in Iwate Email address: tmtiwate@gmail.com Person in charge: Osamu Takahashi
HP
Click here for official website and other related sites

※Event information is subject to change. Please see the official website for details.