Michinoku Wrestling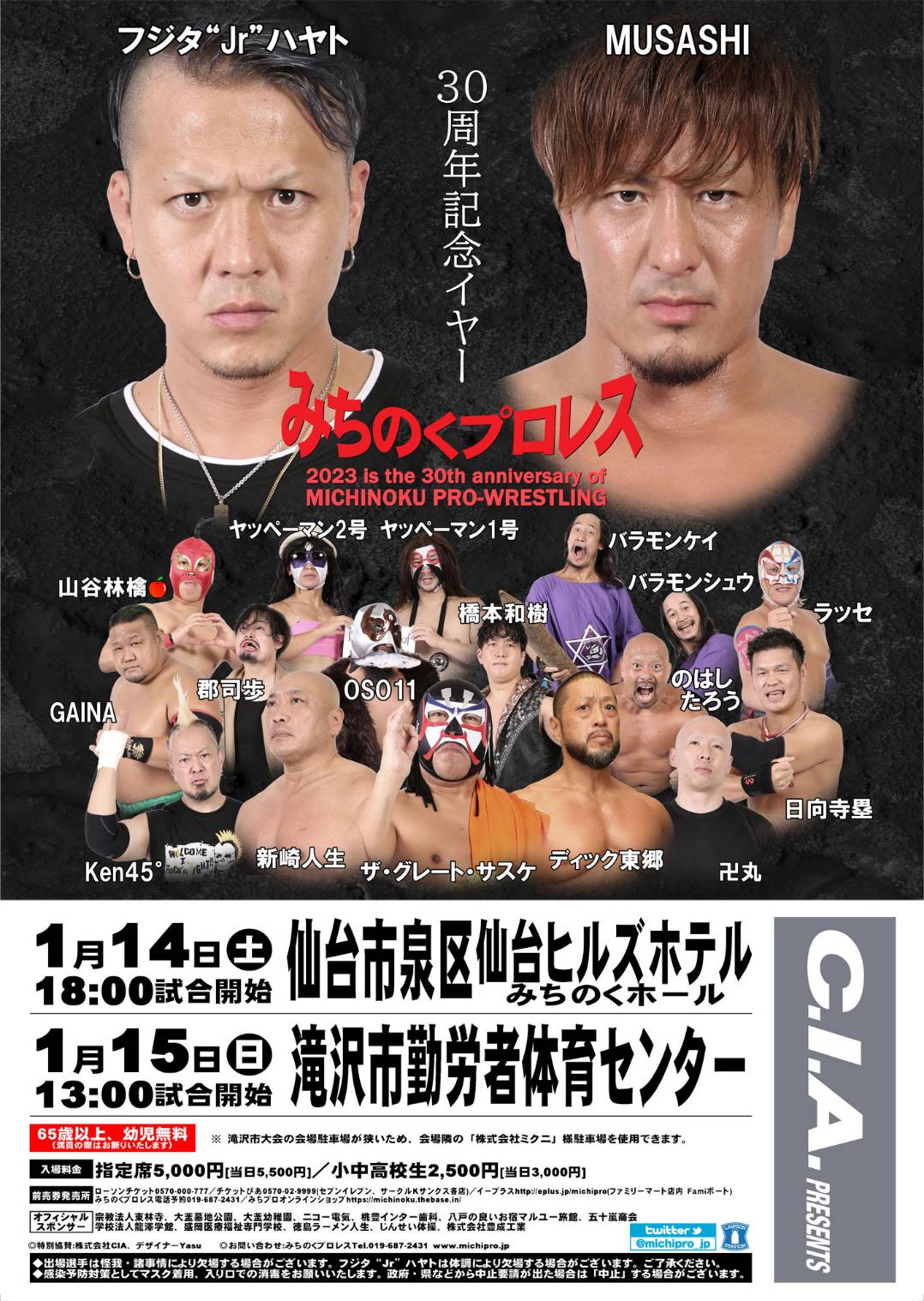 Sell lucky bags. Limited quantity for each competition.

4000 yen

DVDs, T-shirts, pamphlets, portraits, raw photos, figures, lucha libre goods, and other items priced at 15,000 yen or more are always included.

In addition, the jackpot contains an invitation ticket for the next tournament.

Participating / Missing Players
Fujita Jr. Hayato plans to participate in the series in 2023 while monitoring his physical condition. I will be absent depending on my physical condition.

Yasutaka Osera will be absent from January 2023 due to a neck injury. Although the timing of his return is undecided, he commented, "I will definitely come back for the 30th anniversary tournament."

Gaia Hox came to Japan from Taiwan.
It was scheduled to appear in Michinoku Pro Wrestling in April 2020, but due to the cancellation of the tournament due to the coronavirus, the visit to Japan was cancelled. After about two years, he will come to Japan.
Gaia Hox from Taiwan 170cm 75kg

Announcement of special participants for the 30th Anniversary Tournament 1st edition

At the Takizawa City Tournament on January 15th, the special participating athletes of the "30th Anniversary Tournament 1" to be held at the Yahaba Town General Gymnasium on March 18th will be announced.

5th Match Tohoku Tag Championship

ticket price

| | |
| --- | --- |
| Reserved seat | 5000 yen (5500 yen on the day) |
| Reserved seats for elementary, junior high and high school students | 2500 yen (3000 yen on the day) |

Limited to 180 seats


<Advance reservation for ticket sales>
November 18th (Friday) AM 10:00
Launched Michinoku Pro Wrestling Online Shop

*Customers who purchase tickets from the online shop will not write their address, name, or contact information on the ticket stub.

<Ticket sales>
November 19th
Lawson ticket 0570 (000) 777 L code:
Ticket Pia 0570 (02) 9999 (Seven Eleven, Circle K Sunkus stores)
e+ eplus http://eplus.jp/michipro/ (Fami port in Family Mart store)

November 21, 10:00 a.m.
Michinoku Pro Wrestling Telephone Reservation 019 (687) 2431

*If the ticket stub (smaller one) does not have your address, name, and phone number written on it, you will not be able to enter.

If a cancellation request is issued by the prefecture, city, town, or facility, the tournament will be canceled.

Since the parking lot at the venue of the Takizawa City Tournament is narrow, we are renting a parking lot from "Mikuni Co., Ltd." next to the venue.

Notes on parking lot 1) We will not compensate for accidents, theft, etc. that occur while using the parking lot.
2) In the event of damage to company facilities, etc., the user may be required to compensate for damages. 3) Smoking is prohibited in the parking lot.

Parking Lot Prohibitions 1) The use of fire is strictly prohibited within the factory premises.
2) No entry into the building.
3) Do not litter
Contact: Michinoku Pro Wrestling TEL.019(687)2431
Holding period
2023/1/15
Open time
Opening 12:15

13 o'clock
Venue

Takizawa Workers Physical Education Center

Address
58-5 Ogama Takamori, Takizawa City
Parking
Temporary next door
Access
https://goo.gl/maps/H43BEBodTdSMW1hB6
Price
ticket price

Reserved seat 5000 yen (5500 yen on the day)

Elementary, middle and high school reserved seats 2,500 yen (3,000 yen on the day)
Contact
Michinoku Wrestling

Mutsu Co., Ltd.

〒020-0752

50-20 Okama Hakusan, Takizawa City, Iwate Prefecture

TEL. 019 (687) 2431

FAX.019(681)2082

Email: info@michipro.jp
HP
Click here for official website and other related sites

※Event information is subject to change. Please see the official website for details.