Ofunato Machimori University 4th Machimorigaku "Thinking of Machimoribito – Steps toward Community Development that Can Be Aware of and Support Diversity"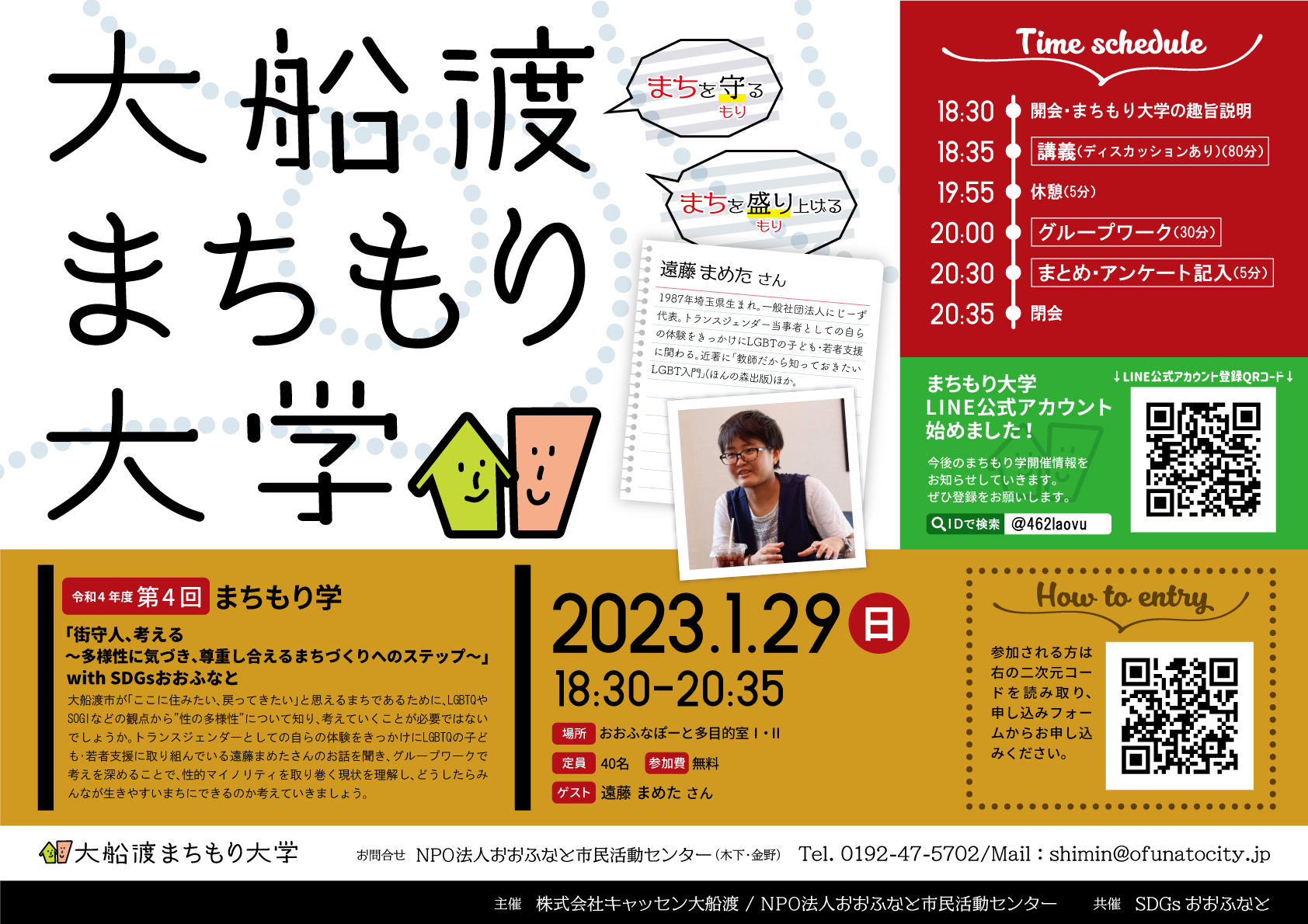 〇Purpose In order for Ofunato City to be a city where people want to live and come back, it is necessary to learn about and think about sexual diversity from the perspective of LGBTQ and SOGI. Listening to Mameta Endo, who is working to support LGBTQ children and young people based on her own experience as a transgender, deepening her thoughts through group work will help her understand the current situation surrounding sexual minorities, and what can be done about it. This will be an opportunity for us to think about how we can make the city a better place for everyone to live.
〇Date and time Sunday, January 29, 5th year of Reiwa
18:30~20:35
〇Venue Ofunaport multi-purpose room Ⅰ・Ⅱ
〇 Lecturer Mameta Endo Lecturer Profile Born in 1987 in Saitama Prefecture. Representative of Nijizu General Incorporated Association. Involved in supporting LGBT children and young people based on his own experience as a transgender person. His recent publications include "Introduction to LGBT that Teachers Should Know" (Honnmori Publishing).
〇 Time schedule
18:30 Opening of the meeting and explanation of the purpose of Machimori University
18:35 Lecture (with discussion) (80 minutes)
19:55 Break (5 minutes)
20:00 Group work (30 minutes)
20:30 Summary and questionnaire (5 minutes)
20:35 Closing
〇 Participation fee: Free
〇Capacity 40 people
〇 Application form
https://forms.gle/UgqdnMafVDS9ZBrPA
〇 Sponsor Ofunato City Forest University (Kyassen Ofunato / Ofunato Citizen Activity Center
Co-sponsored by SDGs Ofunato
Holding period
2023/1/29
Open time
18:30~20:35
Venue

Ofuna Port Multi-Purpose Room Ⅰ・Ⅱ

Address
7-6 Chayamae, Ofunato-cho, Ofunato-shi, Iwate
Price
free
Contact
NPO Ofunato Citizen Activity Center

(Responsible: Kinoshita, Konno)

TEL/FAX 0192-47-5702

Email shimin@ofunatocity.jp