Arts Live Iwate 2022 Oral History Theater "Oral Theater" "You are my story Vol.2"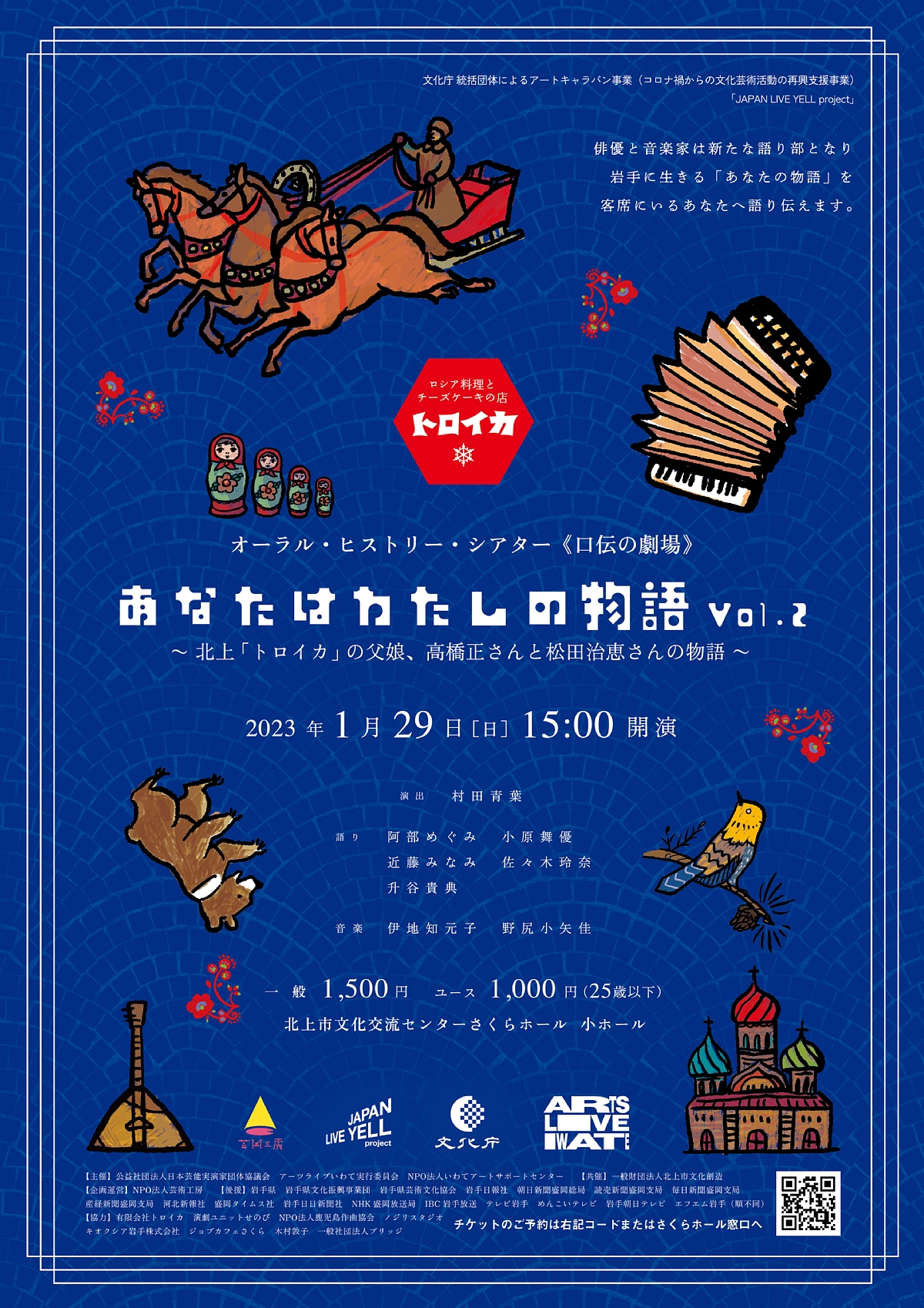 ~The story of Tadashi Takahashi and Harue Matsuda, the father and daughter of Kitakami Troika~
Actors and musicians will become new storytellers, and will tell you the "your story" of living in Iwate to you in the audience.
Why Russian food in Kitakami? Why is cheesecake synonymous with Russian restaurants? The story of a father and daughter that no one knew about the famous restaurant "Troika" that everyone knew.
◆ Date and place
January 29 , 2023 ( Sun) 15:00 start (14:30 open)
Kitakami City Cultural Exchange Center Sakura Hall Small Hall
◆Admission ticket
General 1,500 yen Youth (under 25) 1,000 yen Admission tickets are sold out!
* Common price for advance tickets and same-day tickets
* If the number of advance tickets reaches the capacity (80 people), tickets on the day will not be sold.
Play guide: Kitakami City Cultural Exchange Center Sakura Hall only
Click here for online reservations → General Admission Ticket (26+) Youth Admission Ticket (Under 25)
◆ Directed by Aoba Murata (theater unit Senobi)
◆ Cast (Katari) Megumi Abe Mai Yu Ohara Minami Kondo Rena Sasaki Takanori Masuya
◆Performance: Motoko Ijichi (keyboard) Koyaka Nojiri (percussion)
◇Director Assistant: Natsumi Kidoguchi ◇Stage Director: Akira Onodera ◇Stage Director Assistant: Mai Yu Ohara ◇Lighting/Sound: Sakura Hall Stage Technology Division
◇ Production and advertising art: Yohei Kobori ◇ Production assistant: Hideyoshi Suzuki ◇ Production cooperation: Job Cafe Sakura Volunteers
◇Music Director: Akiko Nasukawa ◇Performance Secretariat: Masatoshi Konno
◆Organizers: Japan Association of Performers' Organizations, Arts Live Iwate Executive Committee, NPO Iwate Art Support Center
◆ Co-sponsored by: General Incorporated Foundation Kitakami City Culture Creation ◆ Planning and operation: NPO Geijutsu Kobo
Sponsored by: Iwate Prefecture, Iwate Prefecture Cultural Promotion Agency, Iwate Arts and Culture Association, Iwate Nippo, Asahi Shimbun Morioka General Bureau, Yomiuri Shimbun Morioka Branch, Mainichi Shimbun Morioka Branch, Sankei Shimbun Morioka Branch, Kahoku Shimpo, Morioka Times , Iwate Nichinichi Shimbun, NHK Morioka Broadcasting Station, IBC Iwate Broadcasting, Television Iwate, Menkoi Television, Iwate Asahi Television, FM Iwate (in no particular order)
◆ Cooperation: Troika Co., Ltd., Theater Unit Senobi, NPO Kagoshima Composition Association, Nojiri Studio, Kioxia Iwate Co., Ltd., Job Cafe Sakura, Atsuko Kimura, Bridge
Holding period
2023/1/29
Open time
Start 15:00 (Open 14:30)
Venue

Kitakami City Cultural Exchange Center Sakura Hall Small Hall

Address
2-1-1 Sakuradori, Kitakami City, Iwate Prefecture
Parking
Yes (free)
Price
General 1,500 yen

Youth (under 25 years old) 1,000 yen
Contact
Planning and operation: NPO Geijutsu Kobo (person in charge: Kobori)

Phone: 090-2238-6465

Mail: info@g-kobo.net
HP
Click here for official website and other related sites

※Event information is subject to change. Please see the official website for details.