[January 29th] Resilience training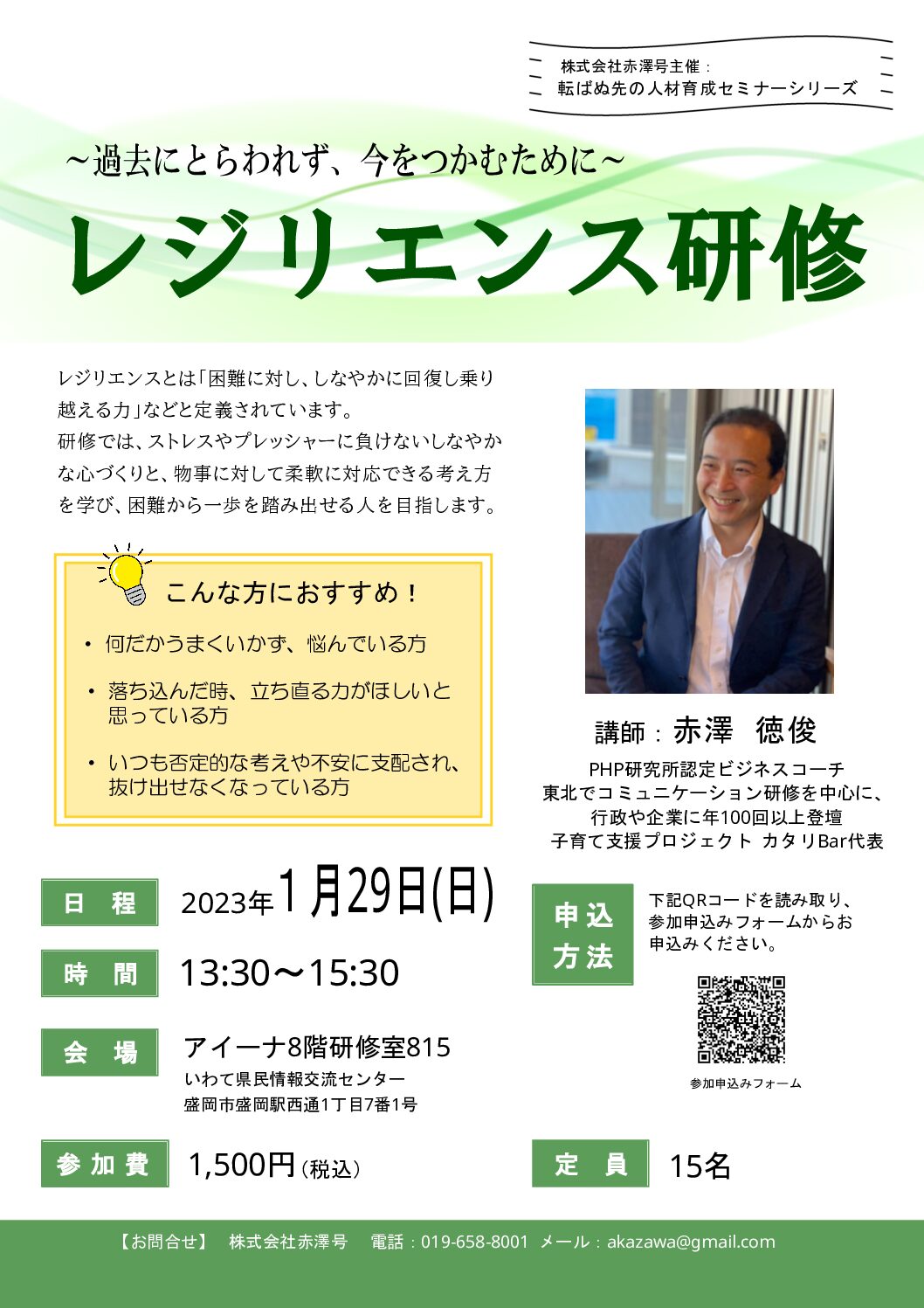 Resilience training ~ To grasp the present without being bound by the past ~
Resilience is defined as "the ability to flexibly recover and overcome difficulties". We aim to be a person who can take a step forward from difficulties by learning how to develop a flexible mind that can withstand stress and pressure and to learn how to think flexibly.
Contents What is resilience?
・Get to know yourself ・Get flexible thinking
Venue <br />Iwate Prefectural Information Exchange Center Aina 815
subject
15 people
Date and time January 29, 2020 (Sun) 13:30-15:30
Entry fee
1,500 yen (tax included)
I recommend this hotel!
・Those who are worried about something going wrong ・Those who want the power to recover when they are depressed ・Those who are always dominated by negative thoughts and anxiety and can not get out
Lecturer Introduction <br /> Akazawa Co., Ltd. Noritoshi Akazawa Career Consultant
A business coach certified by PHP Institute.
Parenting support project Katari Bar Representative.
Application form
Resilience Course – Google Forms
Inquiries <br /> Akazawa Co., Ltd. Telephone: 019-658-8001
mail: n21.akazawa@gmail.com
Flyer
https://akazawago.com/wp-content/uploads/2022/12/3e5a4786238a82076abf7543e3a48ed7.pdf
Holding period
2023/1/29
Open time
13:30~15:30
Venue

Iwate Citizen Information Exchange Center Aina 815

Address
1-7-1 Morioka Station Nishidori, Morioka City
Price
1,500 yen
Contact
Akazawa Co., Ltd.

Phone: 019-658-8001

mail: n21.akazawa@gmail.com
HP
Click here for official website and other related sites

※Event information is subject to change. Please see the official website for details.