Reiwa 4th year "new farmer fair in Iwate (2nd)" will be held!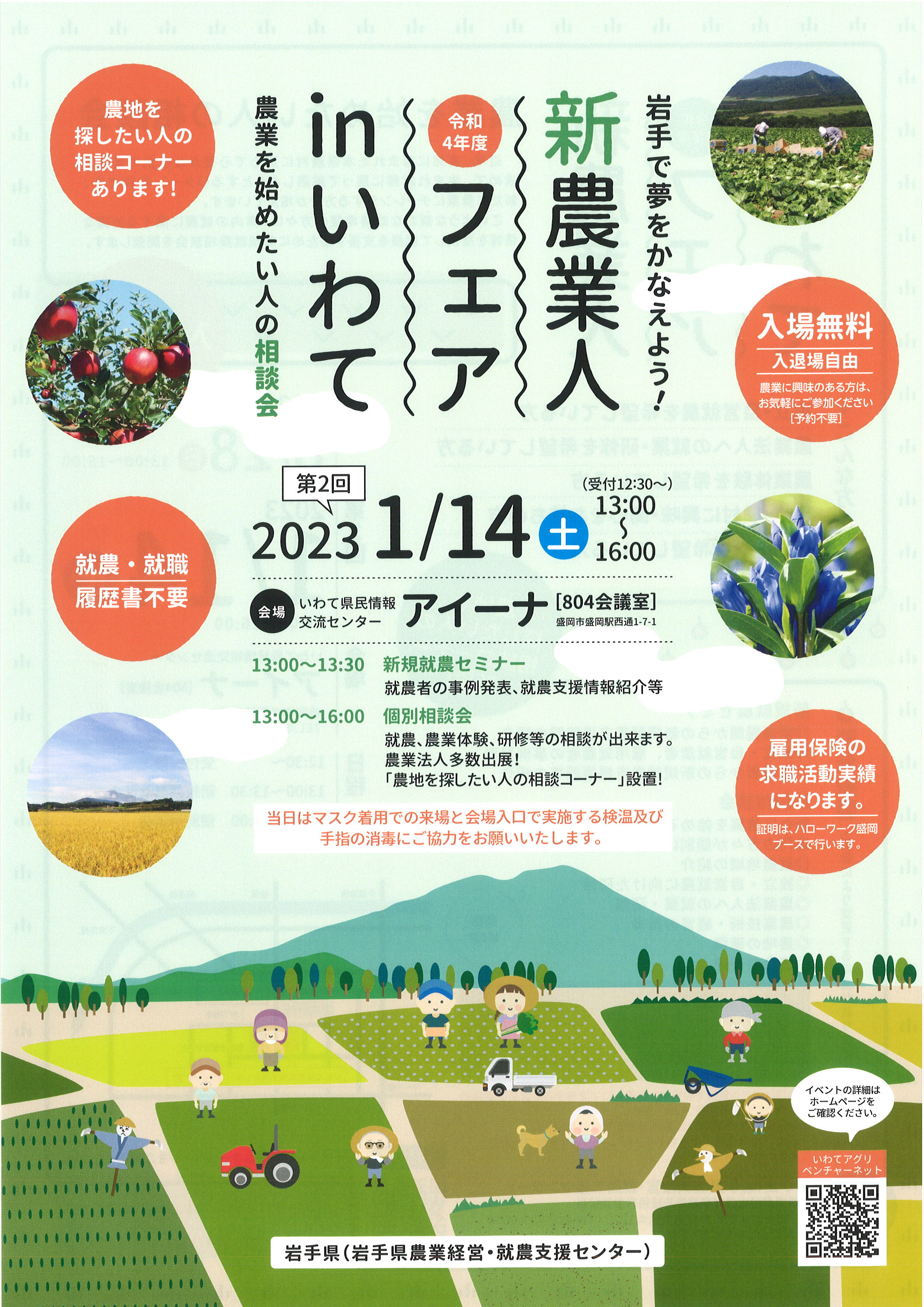 ■ Iwate Prefecture (Iwate Prefecture Agricultural Management/Farming Support Center) is targeting those who want to start farming in Iwate Prefecture.

We will hold the prefecture's largest farming consultation meeting "New Farmers Fair in Iwate".


■ At individual consultation meetings, agricultural corporations in the prefecture, prefectures/municipalities, agricultural-related organizations, etc.

We will respond directly to consultations about farming, recruitment, farming experiences, etc.

At the new farming seminar, we will introduce farming support information and also present case studies of senior farmers.


■ Participation fee is free, and you do not need to bring your resume.


■ If you are looking for a job, it will be the job search results of the employment insurance (certification will be done at the Hello Work Morioka booth).


■ For details of the fair, please check the "Iwate Agriventure Net" operated by Iwate Prefecture.

Exhibitor information will be updated from time to time!

➡ https://www.pref.iwate.jp/agri/i-agri/2004700/2005356.html


■ If you are interested in agriculture or want to start farming, please join us. (No advance reservation required)

As a measure to prevent the spread of new coronavirus infections, all participants are required to wear a mask, disinfect their hands,

We ask for your cooperation in creating a guest list.

 


■ The official video channel of Iwate Prefecture introduces two groups of senior farmers who have started farming in the prefecture. Please take a look!

(Mr. and Mrs. Sato, a tomato farmer in Oshu City, and Mr. Terui, a green pepper farmer in Hanamaki City)
 ➡ Iwate Prefecture Official Video Channel (YouTube) https://www.youtube.com/watch?v=epABiafby_Y


Holding period
2023/1/14
Open time
13:00-16:00 (reception from 12:30)
Venue

Iwate Citizen Information Exchange Center Aina 8F (804 meeting room)

Address
1-7-1 Morioka Station Nishidori, Morioka City
Price
Admission free
Contact
Iwate Prefecture (Iwate Prefecture Agricultural Management and Farming Support Center)

Secretariat: Iwate Prefecture Agriculture, Forestry and Fisheries Department Agricultural Extension Technology Division

TEL: 019-629-5654 E-mail: AF0005@pref.iwate.jp
HP
Click here for official website and other related sites

※Event information is subject to change. Please see the official website for details.