Morioka City Ruins Learning Center Special Exhibition "Morioka's Jomon Culture Stonework of Jomon People"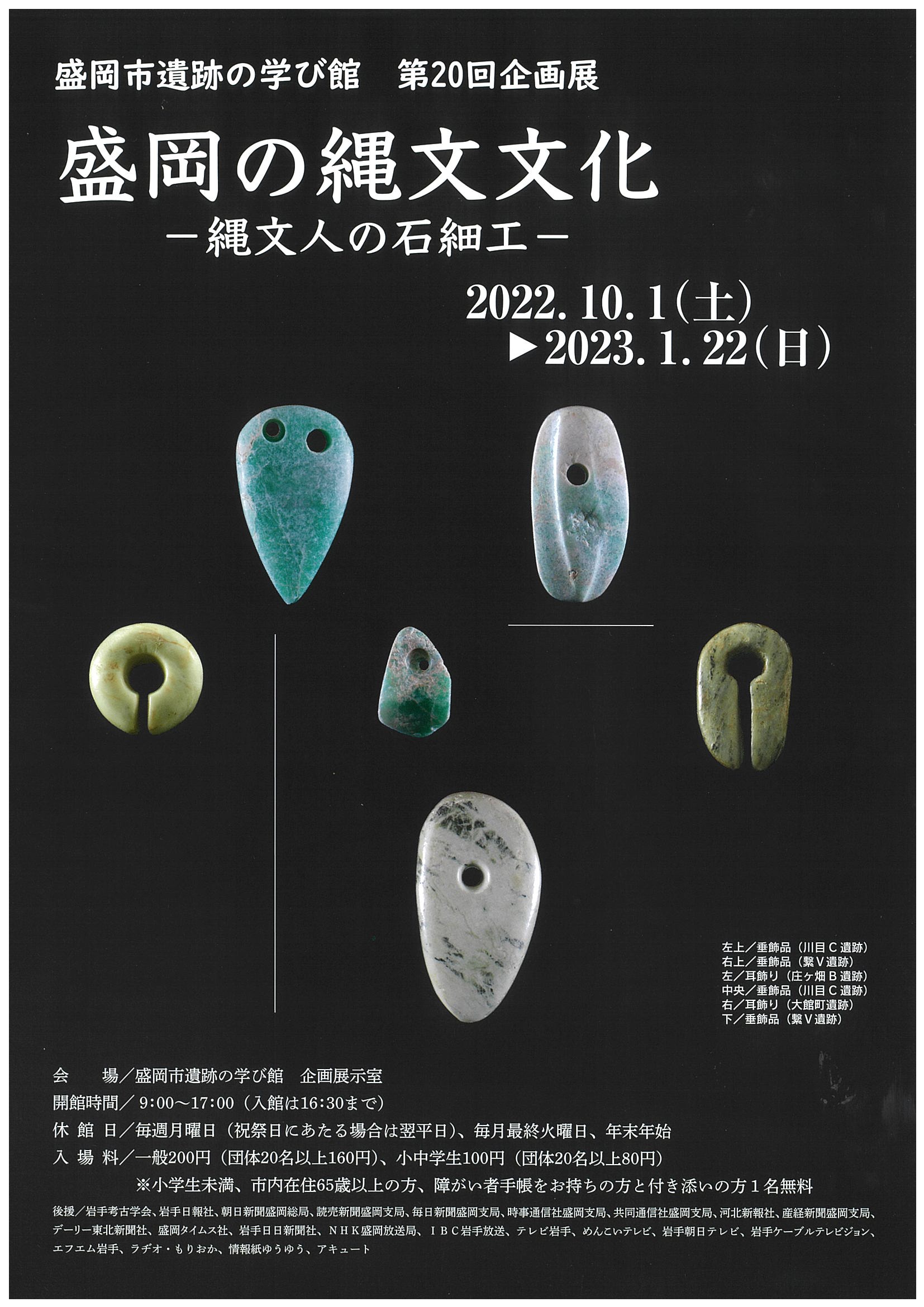 "Stones" supported life and culture during the Jomon period, which is said to have lasted for 10,000 years.
Stones were processed as tools, and sometimes transformed into jewelry and prayer tools, supporting people's culture and life.
In this special exhibition, we will exhibit and explain the outstanding stone processing techniques of the Jomon people and the background of the Jomon culture that can be seen from the stone materials used, through stone products from the early to late Jomon period and related relics found in Morioka City. increase.
In particular, the collective exhibition of jade and nephrite products that have been unearthed from ruins in Morioka City is a must-see.
Holding period
2022/10/1~2023/1/22
Open time
9:00 to 17:00 (admission until 16:30)
Venue

Morioka Ruins Learning Center Special Exhibition Room

Address
13-1 Araya, Motomiya, Morioka City
Parking
54 standard-sized vehicles, 5 large vehicles, 2 handicapped vehicles, free of charge
Access
Taxi: Approximately 5 minutes from JR Morioka Station East Exit Taxi Stand or West Exit Taxi Stand Private Car: Approximately 15 minutes toward Morioka Station from Tohoku Expressway Morioka Interchange Walking: Approximately 20 minutes from JR Morioka Station West Exit via Morino Ohashi Bridge
Price
200 yen for adults, 100 yen for elementary and junior high school students
Contact
Morioka Ruins Museum Tel: 019-635-6600
HP
Click here for official website and other related sites

※Event information is subject to change. Please see the official website for details.