Forest Sake No Sound Festival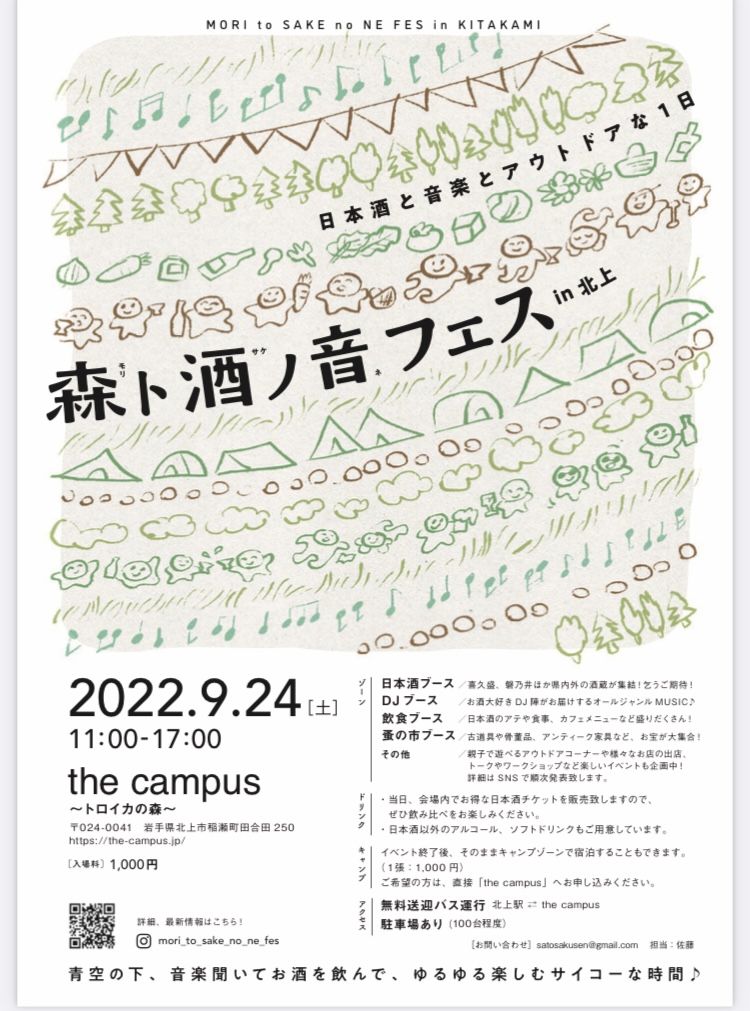 ◆Morito Sake No Sound Festival◆
▶︎Date/September 24, 2022 (Sat) 11:00-17:00
▶︎Location: the campus ~ Troika no Mori ~
250 Tagoda, Inase-machi, Kitakami City, Iwate Prefecture
▶︎Entrance fee: ¥1000 (per person) *Free for children under 15 years old
・Advance tickets come with a special welcome 1d ・Tickets are on sale at PASS MARKET
▶︎We also operate a free shuttle bus between Kitakami Station and The Campus!
◎ Event Overview ◎
Would you like to enjoy music, Iwate's sake and the outdoors in an open space surrounded by greenery?
On the day of the event, in addition to sake breweries and DJs in the prefecture, restaurants and flea markets will also be held! !
ー ー ー ー ー ー ー ー ー ー ー ー ー ー ー ー ー ー ー ー ー ー ー ー ー ー ー ー ー ー ー ー ー ー ー ー ー ー ー ー ー ー ー ー ー ー ー ー ー ー ー ー ー ー ー ー ー ー ー ー ー ー ◆
〜Participating sake breweries〜
▶︎Kikumori (Kitakami City) @kikuzakari
▶︎Iwanoi @iwanoi1917
▶︎Iwate Meijo (Oshu) @iwatemeiyo_official
▶︎Hamachidori (Kamaishi) @hamachidori_official
▶︎ Nanbubijin (Ninohe) @nanbubijin_sake
~Participating DJs~
▶︎KOTARO (ON AIR) @kotaro.shaka
▶︎comaru (MOVE JAPAN)
▶︎Halcy (Zetton) @halcyon329
▶︎YUKO (1COINCLEAR)
▶︎NEGAMI RELAX (PATINA) @patina_records_negami
▶︎Maru
▶︎soma-d (controller) @55somd55
▶︎RISING SOUND @rising_sound_information
~ Eating and drinking booth opening stores ~
▶︎Sake Stand Makotoya (Kitakami) @sakestandmakotoya
▶︎chilldining&bar Tsubame (Kitakami) @tsubame.chill2019
▶︎ Takoyaki Shomon & GYOTEN (Kitakami) @takoyaki_warakado
@gyoten_kitakami
▶︎Liberal Shaomai (Ichinoseki) liberalshaomai
▶︎Takematsuya (Yamada) Takematsuya]
▶︎Ryukatsumaru (Miyako)
●Flea market booth store●
▶︎DISKNOTE Morioka (Record/CD) @disknote_morioka
▶︎Efrica (outdoor) @efrica_iwate
▶︎mum (sweets) @mum.atelier__
▶︎YOLISUL (miscellaneous goods) @yolisul.fuchi
▶︎FIKA+ (miscellaneous goods)
@fika_kivi
@fika_hymy
▶︎Milan (antique furniture)
▶︎Berry (antique furniture)
▶︎ Participated in 4 stores such as other antiques and second-hand clothes
Holding period
2022/9/24
Open time
Opening at 11:00

start
Venue

the campus

Address
250 Goda, Inasemachi, Kitakami City
Parking
About 100 parking spaces
Access
15 minutes by car from Kitakami Station (There is a shuttle bus from Kitakami Station on the day)
Price
Admission fee 1000 yen (per person)

* Free for children under 15 years old
Contact
satosakusen@gmail.com

or

Message to Morito Sake no Oto Fes Instagram/Facebook