Michinoku Wrestling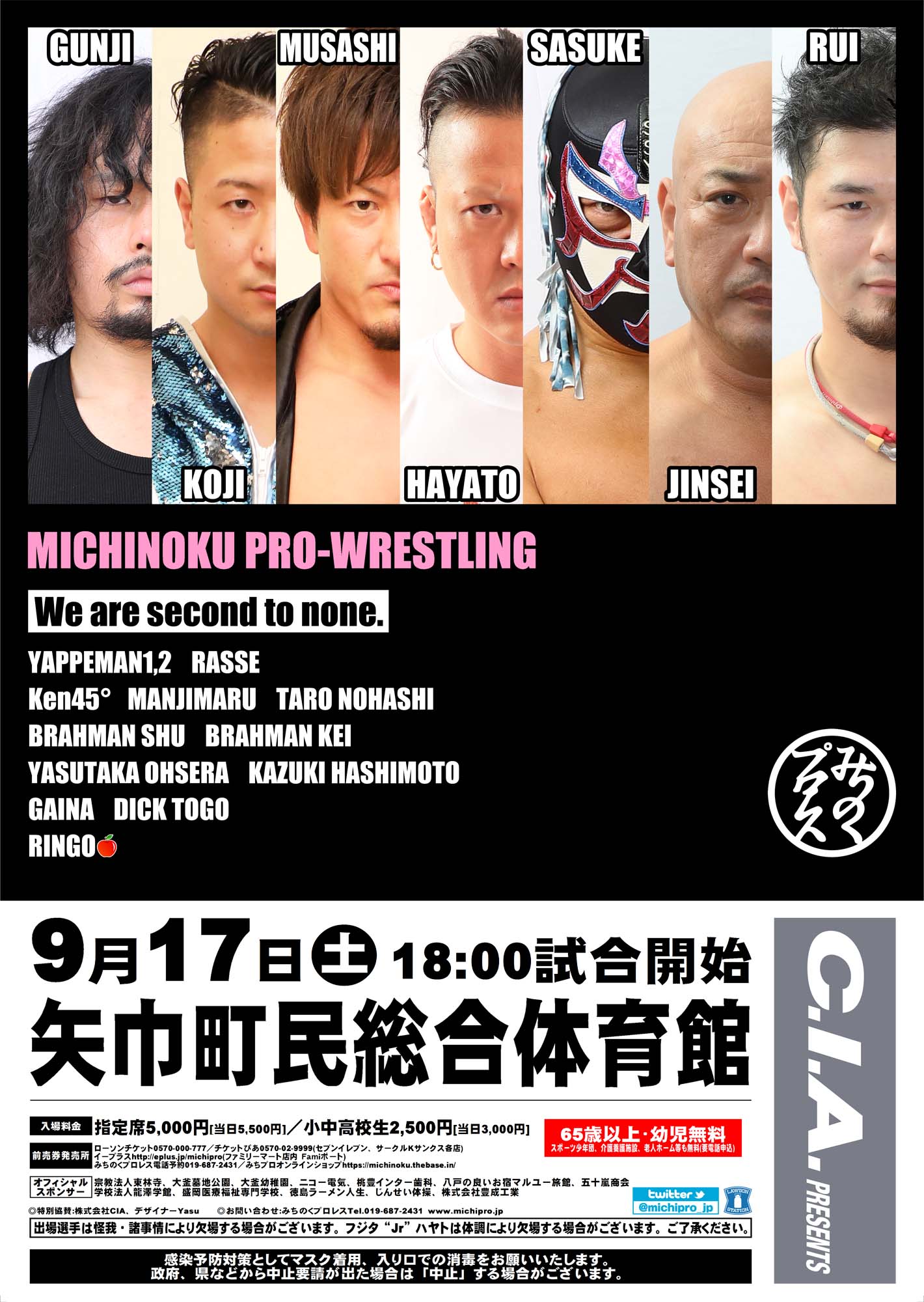 5th Match Tohoku Tag Championship
4th Match Koji Kawamura Mexico Send-off Match Vol,1
Holding period
2022/9/17
Open time
Opening 17:15

Start at 18:00
Venue

Yahaba Town General Gymnasium

Address
118 Minami Yahaba, Yahaba-cho, 13th lot
Parking
Available on site
Access
https://www.yahabataikyou.net/newpage5.html
Price
Reserved seat 5000 yen (5500 yen on the day)

Elementary, middle and high school reserved seats 2,500 yen (3,000 yen on the day)

65 years old and over, infants free (admission may be refused if all seats are taken on the day)

Junior sports clubs, nursing homes, nursing homes, etc. are free of charge (telephone application required)

Limited to 250 seats

<Advance reservation for ticket sales>

Friday, July 8th at 10:00 AM

Launched Michinoku Pro-Wrestling Online Shop



*Customers who purchase tickets from the online shop will not write their address, name, or contact information on the ticket stub.



<Ticket sales>

Saturday, July 9th

Lawson ticket 0570 (000) 777 L code: 21679

Ticket Pia 0570 (02) 9999 (Seven Eleven, Circle K Sunkus stores)

e+ eplus http://eplus.jp/michipro/ (Fami port in Family Mart store)

Michinoku Pro Wrestling Telephone Reservation 019 (687) 2431



*If the ticket stub (smaller one) does not have your address, name, and phone number written on it, you will not be able to enter.



If a cancellation request is issued by the prefecture, city, town, or facility, the tournament will be canceled.
Contact
Michinoku Wrestling

Mutsu Co., Ltd.

〒020-0752

50-20 Okama Hakusan, Takizawa City, Iwate Prefecture

TEL. 019 (687) 2431

FAX.019(681)2082
HP
Click here for official website and other related sites

※Event information is subject to change. Please see the official website for details.