Flea Market & Craft Sale at Voice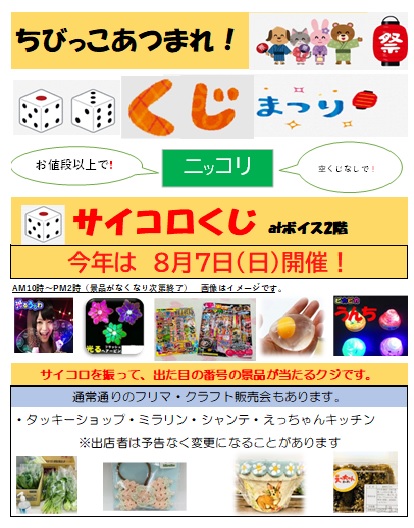 Sunday, August 7, 4th year of Reiwa
From 10:00 AM to 2:00 PM
Kitakami Voice 2F At the event space on the north side
We will hold a flea market & craft sales event.
It's a non-crowded event.
August was also popular last year
"Dice lottery" will be held.
We are waiting for you with free gifts for children and adults.
Please note that the prizes are limited.
(500 yen each time)
Enjoy what the fresh vegetables will be on sale ♪
In addition, it is full of great bargains.
Please be sure to wear a mask when you come to the venue to prevent infection.
Please refrain from long stays and conversations.
Please cooperate in bringing your own bag.
・ Introduction of some contents
Flea market, vegetables, miscellaneous goods, lace works, mizuhiki works, woodwork products,
Remake pots, succulents, and other handcrafts
Handmade foods such as ganzuki and puffed grains (business licensee)
Mr. Miralin will hold a Katyusha workshop.
It may change depending on the infection situation.
・ Store name (planned)
Tacky shop
Miralin
Chanter
Ecchan Kitchen
tie-tie
The store owner and contents are subject to change without notice.
* It is an event with fixed members.
We are not recruiting store openings, so please refrain from making inquiries.
Also, please do not contact Mr. Voice if you would like to open a store.
Holding period
2022/8/7~2022/8/7
Open time
10:00~14:00



Venue

Kitakami Voice

Address
3-7-11, Nine Years Bridge, Beihang City
Parking
can be
Access
From the west exit of Kitakami Station, head west on the main street and turn left at the third intersection. You can see it on the left before the 9th year Ohashi. By car, turn east at the Kitakami police station entrance on Route 4 bypass and go straight. Sugu beyond the first signal! The green sign is a landmark.
Price
free entrance
Contact
ttttukky@yahoo.co.jp

Kawamura

When sending from a mobile phone address, make sure that the yahoo address can be received.
HP
Click here for official website and other related sites

※Event information is subject to change. Please see the official website for details.