[7/18 (Monday)] Everyone's Salon "Classic Salon ~ The World of Double Reed ~"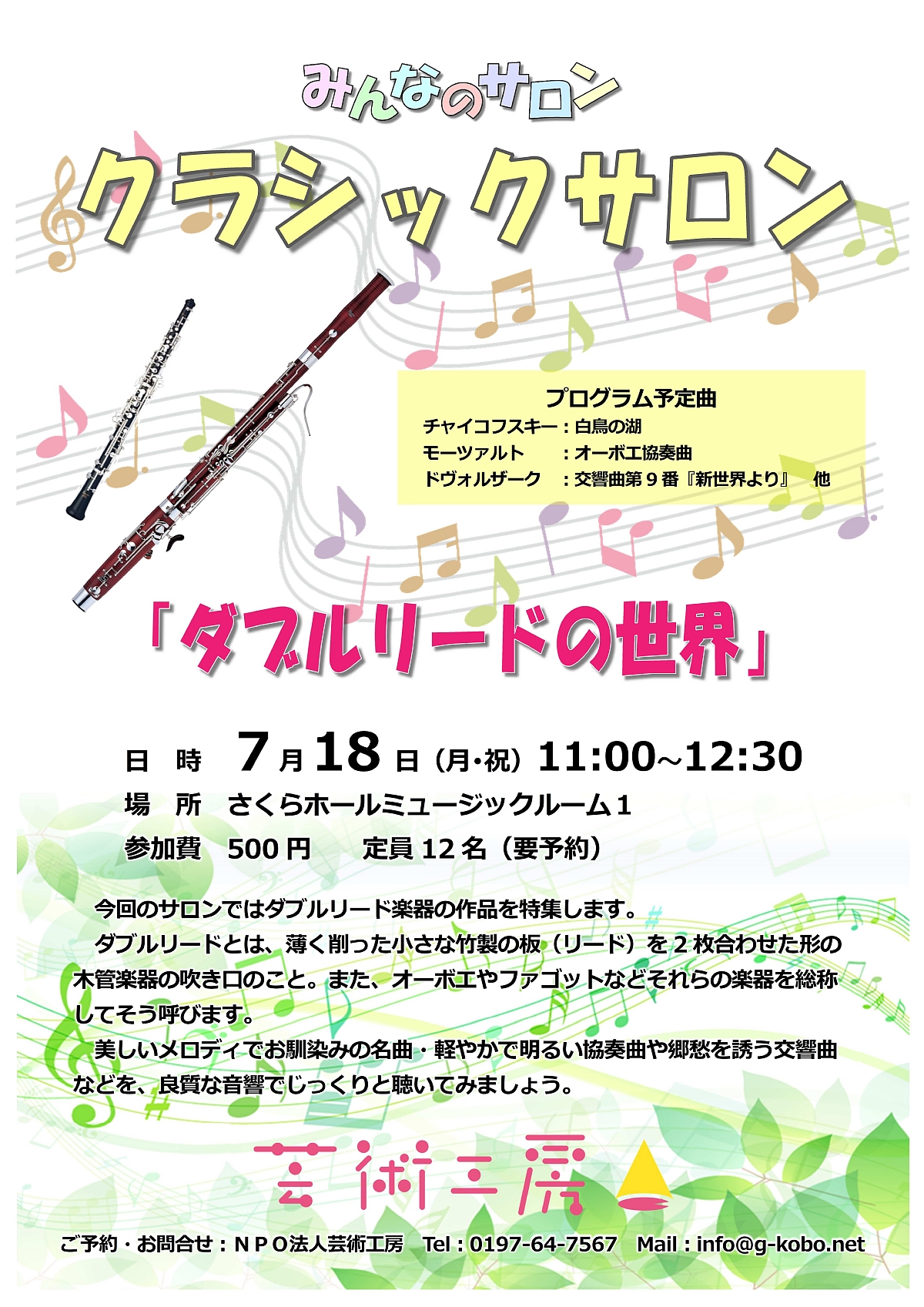 Let's talk while listening to classical music!
It is a salon where you can enjoy classical music with high quality sound.
The theme this time is " The World of Double Reeds ".
A double reed is a woodwind instrument outlet made by combining two small bamboo boards (reeds) that have been thinly cut.
In addition, these instruments such as oboe and fagot are collectively called so.
Listen carefully to the famous songs, light and bright concertos, and nostalgic symphonies that are familiar with beautiful melody, with high-quality sound.
If you are new to classical music, please feel free to join us ♪
* The capacity is 12 people to avoid crowding, so if you would like to participate, please make a reservation by email or phone in advance.
Click here to make a reservation!
NPO corporation art studio
TEL: 0197-64-7567 (Responsible: Kunno)
Email: info@g-kobo.net
Holding period
2022/7/18
Open time
11:00~12:30
Venue
Sakura Hall Music Room 1

(Please come to the room labeled "Minna no Salon".)
Address
2-1-1, Sakuradori, Kitakami-shi
Parking
Yes (free)
Price
Participation fee: 500 yen
Contact
NPO corporation art studio

TEL: 0197-64-7567

Email: info@g-kobo.net
HP
Click here for official website and other related sites

※Event information is subject to change. Please see the official website for details.