Morioka City Ruins Learning Center Theme Exhibition "Tonan Ruins" (Morioka City / Tonan Village Merger 30th Anniversary Project)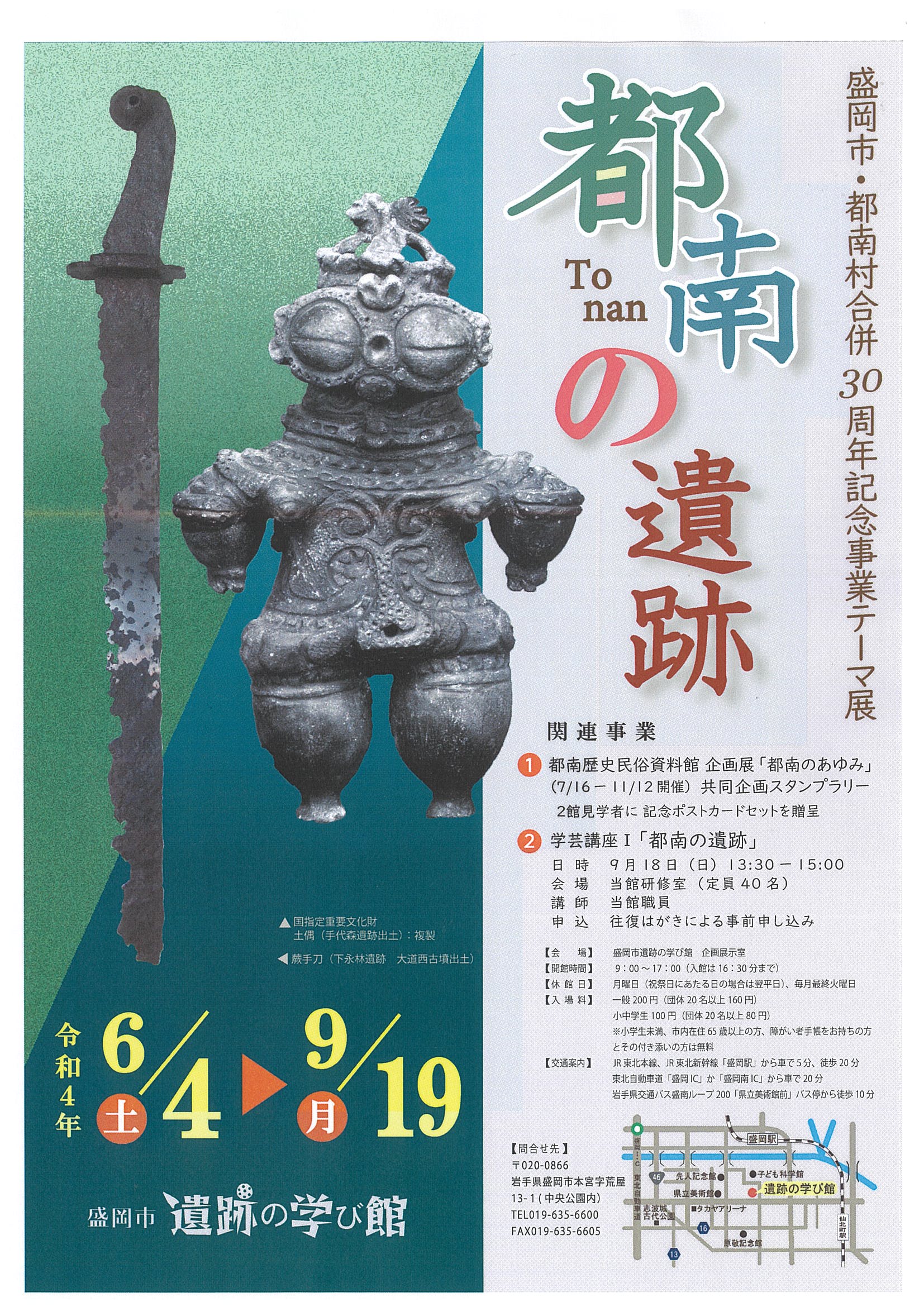 This year marks the 30th anniversary of the merger of Morioka City and Tonan Village in 1991. The Tonan district (former Tonan village) near the former Morioka city has been redeveloped and converted into residential land, and the appearance of the city has changed significantly. However, the Tonan district has a history and culture that has different characteristics from the former Morioka city, and the merger should not bury that history and culture. It is our responsibility to inherit the history and culture of the Tonan area, which is different from the former Morioka city, even within the city area of Morioka city. This exhibition introduces the history and culture of the Tonan area through the remains of the Jomon period to the Middle Ages located in the Tonan area.
Contents: [Jomon period] Yutsubo Ruins, Teshiromori Ruins, [Nara-Heian Period] Nishikato Ruins, Takao A Ruins, Otobekata Haccho Ruins, Shimonagabayashi Ruins, [Medieval / Early Modern] Yutsubo Keizuka, Tatenomae Ruins Such
Holding period
2022/6/4~2022/9/19
Open time
From 9:00 to 17:00
Venue

Morioka Museum of Archery Planning and Exhibition Room

Address
13-1 Araya, Motomiya, Morioka-shi
Parking
54 ordinary cars, 5 large cars, 2 for people with disabilities, free of charge
Access
Taxi: Approximately 5 minutes from the JR Morioka Station East Exit Taxi Platform or West Exit Taxi Platform Private Car: Approximately 15 minutes from the Tohoku Expressway Morioka Interchange toward Morioka Station Walking: Approximately 20 minutes from the West Exit of JR Morioka Station via Morino Ohashi
Price
General 200 yen, elementary and junior high school students 100 yen
Contact
Morioka Museum of Archery Phone 019-635-6600
HP
Click here for official website and other related sites

※Event information is subject to change. Please see the official website for details.