Kenji Miyazawa Ihatovkan Exhibition "Kenji Miyazawa and Esperanto Exhibition"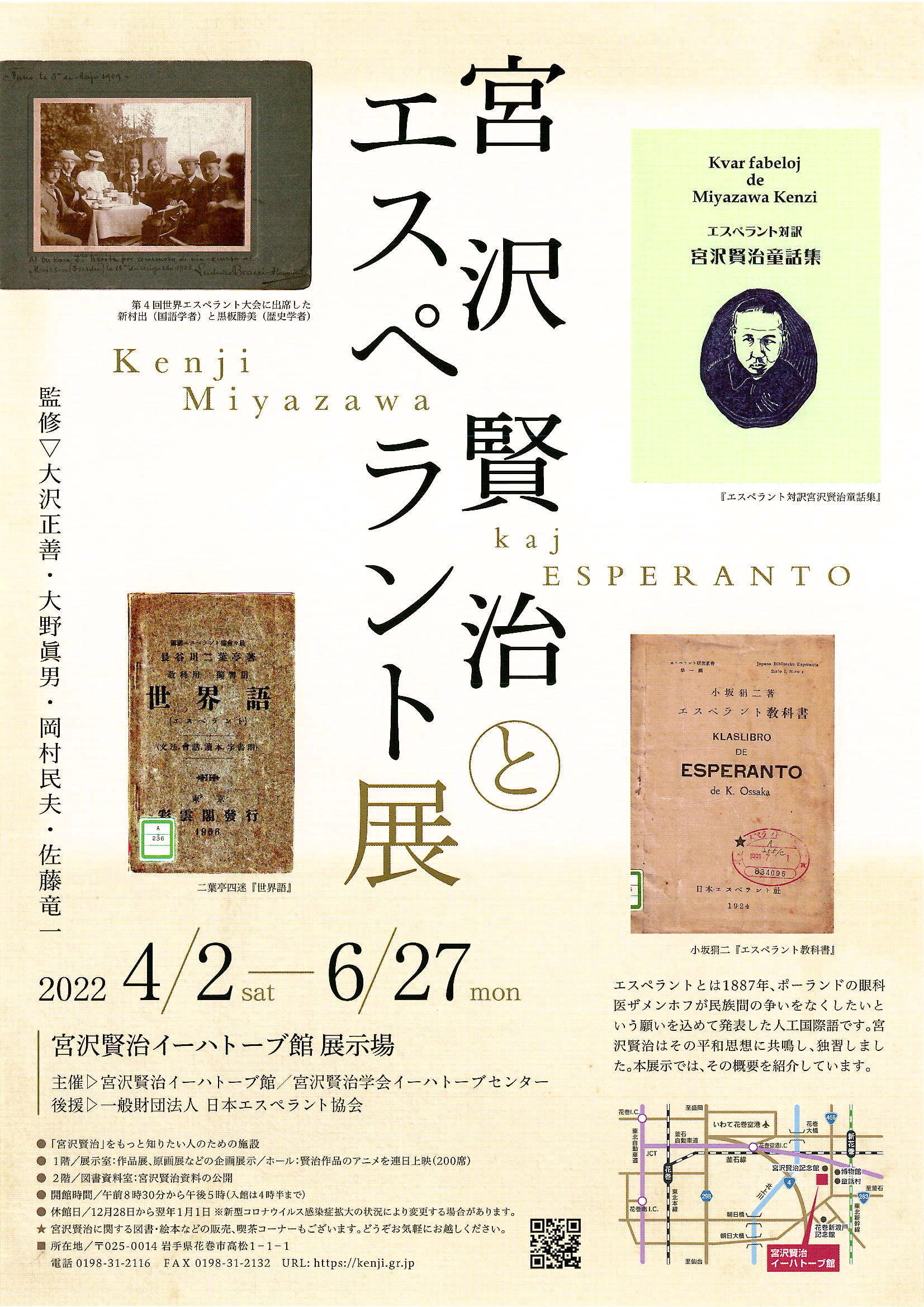 ~ Kenji Miyazawa kaj ESPERANTO ~
Supervised by: Masayoshi Osawa, Masao Ohno, Tamio Okamura, Ryuichi Sato Sponsored by: Japanese Esperanto Institute
Esperanto is an artificial international language published by Polish ophthalmologist Zamenhof in 1887.
At that time, Poland was under Russian control, and Poles, Germans, Russians, etc. lived in a mixed manner, and there was constant conflict between ethnic groups. Growing up in such a reality, Zamenhof came to think that poor communication due to different languages might be the cause of those misfortunes. Esperanto was created as an easy-to-learn language by learning many languages.
Resonating with Esperanto's ideals for world peace, many people in Japan learned Esperanto, and Kenji Miyazawa was one of them.
In this exhibition, with the support of the Japanese Esperanto Institute, the origin of Esperanto, its spread in Japan, the background of Kenji Miyazawa's self-study of Esperanto, Inazo Nitobe, Kizen Sasaki, Kunio Yanagita, Ramsted, etc., directly and indirectly. Introducing the person who influenced Kenji. In addition, it covers the explanation of Kenji Miyazawa's works such as Esperanto poetry and "Porano no Hiroba", the origin of the JR Kamaishi Line with the nickname of Esperanto, and extensively introduces how Esperanto is now popular. We are here.
At the venue, related books lent by the Japanese Esperanto Institute, such as Futabatei Shimei "World Language", will be exhibited, an Esperanto introduction corner on YouTube will be set up, and pamphlets will be prepared for those who do not know anything about Esperanto. We are devising so that you can enjoy it.
Holding period
2022/4/2~2022/6/27
Open time
From 8:30 am to 5:00 pm (admission is until 4:30 pm)
Venue

Kenji Miyazawa Ihatov Hall Exhibition Hall

Address
Hanamaki City Takamatsu Dai 1 Chiwari 1-1
Parking
21 units (free)
Access
Approximately 2km from Shin-Hanamaki Station on the Tohoku Shinkansen, 3 minutes by car, 4 minutes to Iwateken Kotsu Ito-Yokado, 5 minutes on foot after getting off at "Kenji Memorial Hall Exit"
Price
free
Contact
Kenji Miyazawa Ihatov Hall

Phone: 0198-31-2116

Fax: 0198-31-2132
HP
Click here for official website and other related sites

※Event information is subject to change. Please see the official website for details.