[Online] [Call for Participants] Christmas Special Program Online Yomikise & Talking Party with Picture Book Girls in a Small Town Girls Tomopyan (Picture Book Specialist / Basic Picture Book Therapist ®︎)
2021/12/25~2021/12/25
online
653 Views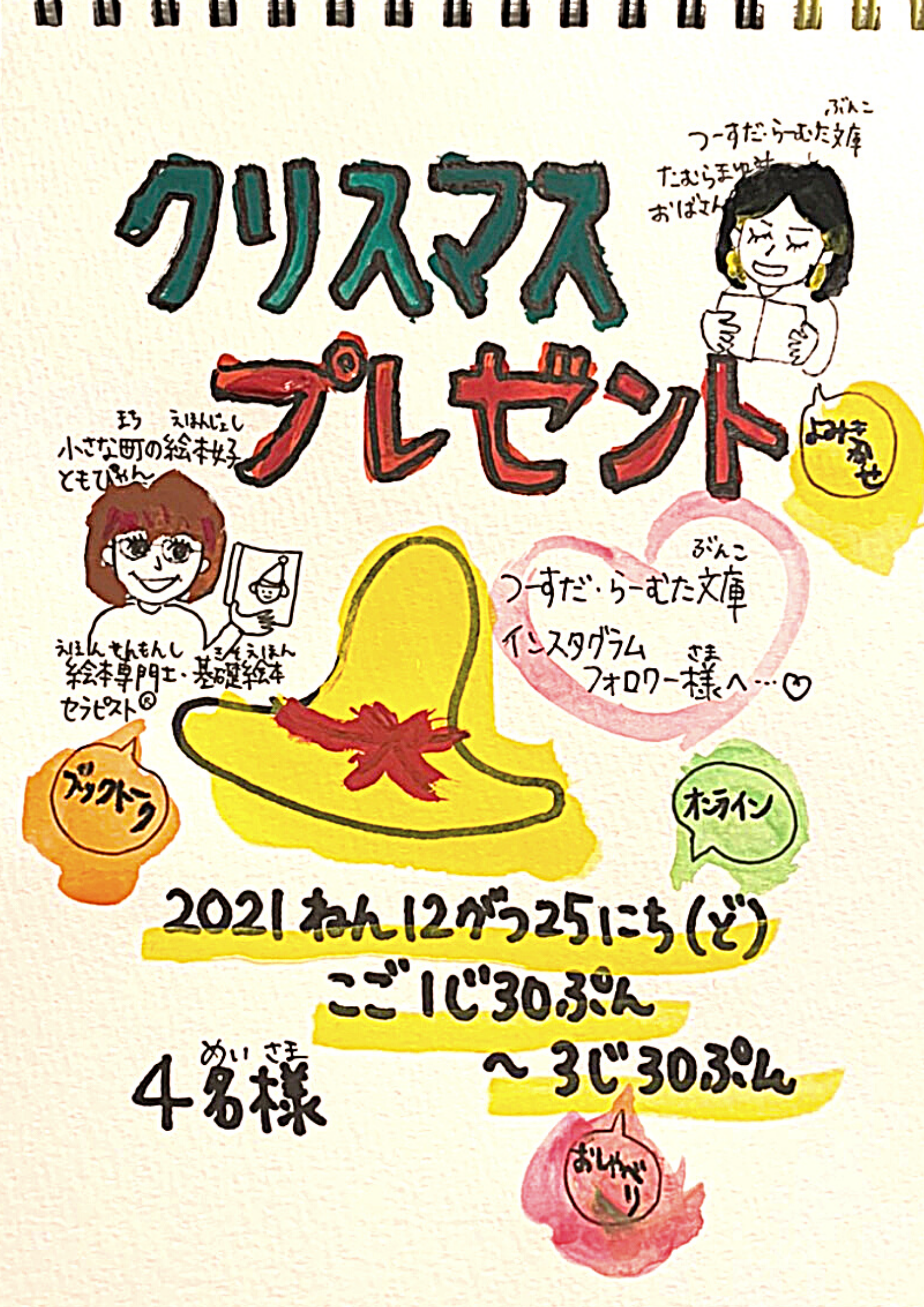 \ Christmas Special Project Online Yomikise & Chatting Party with Picture Book Girls in a Small Town (Picture Book Specialist / Basic Picture Book Therapist ®︎) //
Call for Participation!
We are hosting the home library "Tsushida Ramuta Bunko" in Tsushida-cho, Morioka City.
We planned a Christmas gift for Instagram followers.
Use instagram video chat so you can join from each location.
Please join us if you find it convenient, small friends, and the whole family.
Please use the form below to apply for participation 👒
https://ws.formzu.net/dist/S13805237/
■ Date / Time / Saturday, December 25, 2021 13: 30-15: 30
■ Location / Online (instagram video chat)
■ Organizer / Home Bunko "Tsuuda Ramuta Bunko"
■ Co-sponsored / Guest / Picture book girls in a small town Tomopyan (picture book specialist / basic picture book therapist ®︎)
■ Capacity / 4 groups (If you participate with your family from the same terminal, you can participate more than once)
■ Participation fee / free
■ Contents / Story-telling of picture books that value yourself, and book talks of Christmas picture books introduced in Tomopyan's account. From 15:00 to 30 minutes, I would like to talk with the participants about books and children. If you find it convenient, please do.
■ Application / Please apply from the above form.
■ Application deadline / Until 16:00 on Saturday, December 18, 2021 (The deadline may be extended if the capacity is not reached)
■ Request:
★ The picture books to be read aloud have been approved by the publisher to apply for copyrighted works. Participation is limited to "Tsuuda Ramuta Bunko" instagram account followers, please refrain from recording the story-telling video.
★ If you would like to exchange instagram direct message (DM), please enter the information required for participation and send it to the "Tsuuda Ramuta Bunko" account DM.
★ If you are new to video chat, you can practice in advance, so please do not hesitate to let us know in the "Message" column.
Holding period
2021/12/25~2021/12/25
Open time
Start 13:30

End 15:30
Venue

Instagram video chat

Address
Morioka City
Price
free
Contact
ramutabunco@gmail.com
HP
Click here for official website and other related sites

※Event information is subject to change. Please see the official website for details.