Projection Mapping & Light up A night walk of light and sound to experience nature and culture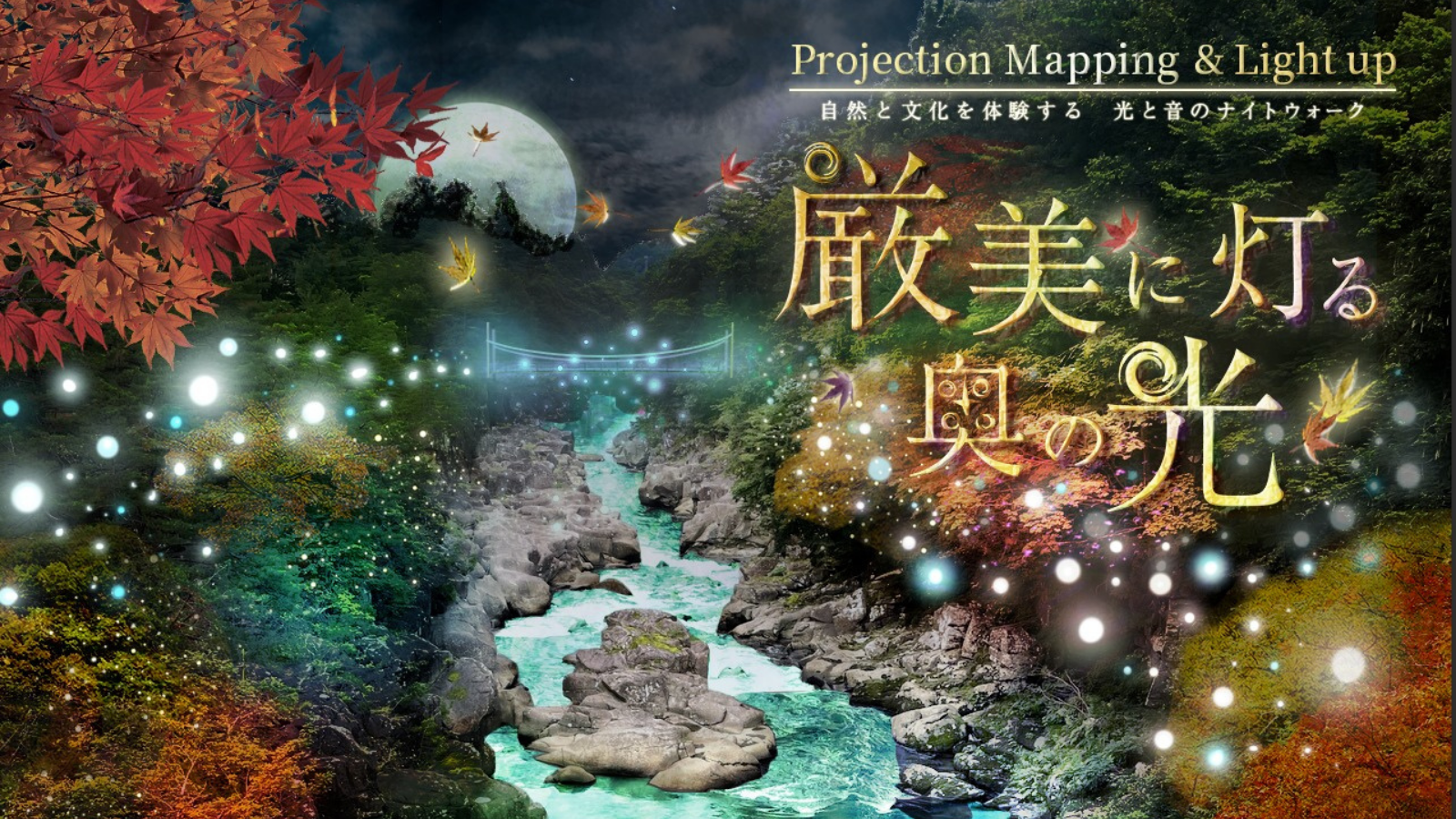 Light and sound night walk to experience nature and culture
This fall, projection mapping and light art will beautifully color the Genbikei Gorge at night. Night entertainment where you can experience a completely new grace.
= About Night Walk "The Light in the Back that Lights Strictly" =
Genbikei is one of the best tourist destinations in Ichinoseki, visited by 1 million tourists annually. You can see the scenery like cherry blossoms in spring, fresh green in summer, colored leaves in autumn, and ink painting in winter only because the predecessors have built it and the local people have carefully accumulated conservation activities. not.
As an important asset of Ichinoseki City, we planned projection mapping and lighting up as the first step to maintain and utilize it together. Please experience the splendor of Genbikei.
[Details] The old feelings are revived in the light and speak in the beautiful nature.
Transform the space of Genbikei Gorge into a new experience with light, video and sound
Night walk entertainment.
We invite you to a fantasy journey that lights the "light in the back".
[Experience time] About 30 minutes to 1 hour
[Reservation method] A reservation is required to prevent new coronavirus infections.
【please note】
(1) It is an event that you can enjoy while walking around the mountain stream by yourself.
Please wear clothes that are as easy to move as possible on the day.
② Temperature will be measured at the entrance of the venue.
We do not allow people above 37.5 ° C to enter.
It is mandatory to wear a mask on the day of the event.
Please note that admission will be refused if you cannot wear it.
Before and after attending an event or on the move
Please take appropriate actions to prevent infection (avoid actions at risk of infection).
Light rain decisive action.
In case of stormy weather or natural disaster, the date and time may be shortened or canceled.
Please see this site (https://peatix.com/event/2904795/view) for the latest information.
[Cooperation] Ichinoseki City, Ichinoseki City Board of Education, Strict Beauty Village Council, Ichinoseki Onsenkyo Council, Sahara Glass Park, East Japan Transportation Co., Ltd., Ichinoseki City Tourism Association, Ama Cafe, Ichinoseki City Museum, Co., Ltd. Parx, Solmediage Co., Ltd., no.9 (Steve * music), Oshima Elek Sogyo, Sannana Co., Ltd., Colors Creation Co., Ltd.
"The Light of the Back that Lights in Genbi" Secretariat [Organizer] World Heritage Hiraizumi / Ichinoseki DMO
[Co-sponsored] Projection Mapping Association
Holding period
2021/10/30~2021/11/7
Open time
2021/10/30 


①17:00~ ②17:20~ ③17:40~ ④18:00~ ⑤18:20~ ⑥18:40~ ⑦19:00~


2021/10/31 


①17:00~ ②17:20~ ③17:40~ ④18:00~ ⑤18:20~ ⑥18:40~ ⑦19:00~


2021/11/06 


①17:00~ ②17:20~ ③17:40~ ④18:00~ ⑤18:20~ ⑥18:40~ ⑦19:00~


2021/11/07 


①17:00~ ②17:20~ ③17:40~ ④18:00~ ⑤18:20~ ⑥18:40~ ⑦19:00~
Venue
Venue: Genbikei

Reception place: Sahara Glass Park
Address
263-1 Takinoue, Genbikei Gorge, Ichinoseki
Parking
Please use the Sahara Glass Park parking lot.
Access
35 minutes by temporary free shuttle bus from Ichinoseki Station West Exit Bus Stop
Price
free
Contact
Please apply from the link below.

https://peatix.com/event/2904795

* We do not accept telephone applications or inquiries.
HP
Click here for official website and other related sites

※Event information is subject to change. Please see the official website for details.