sitting rhythm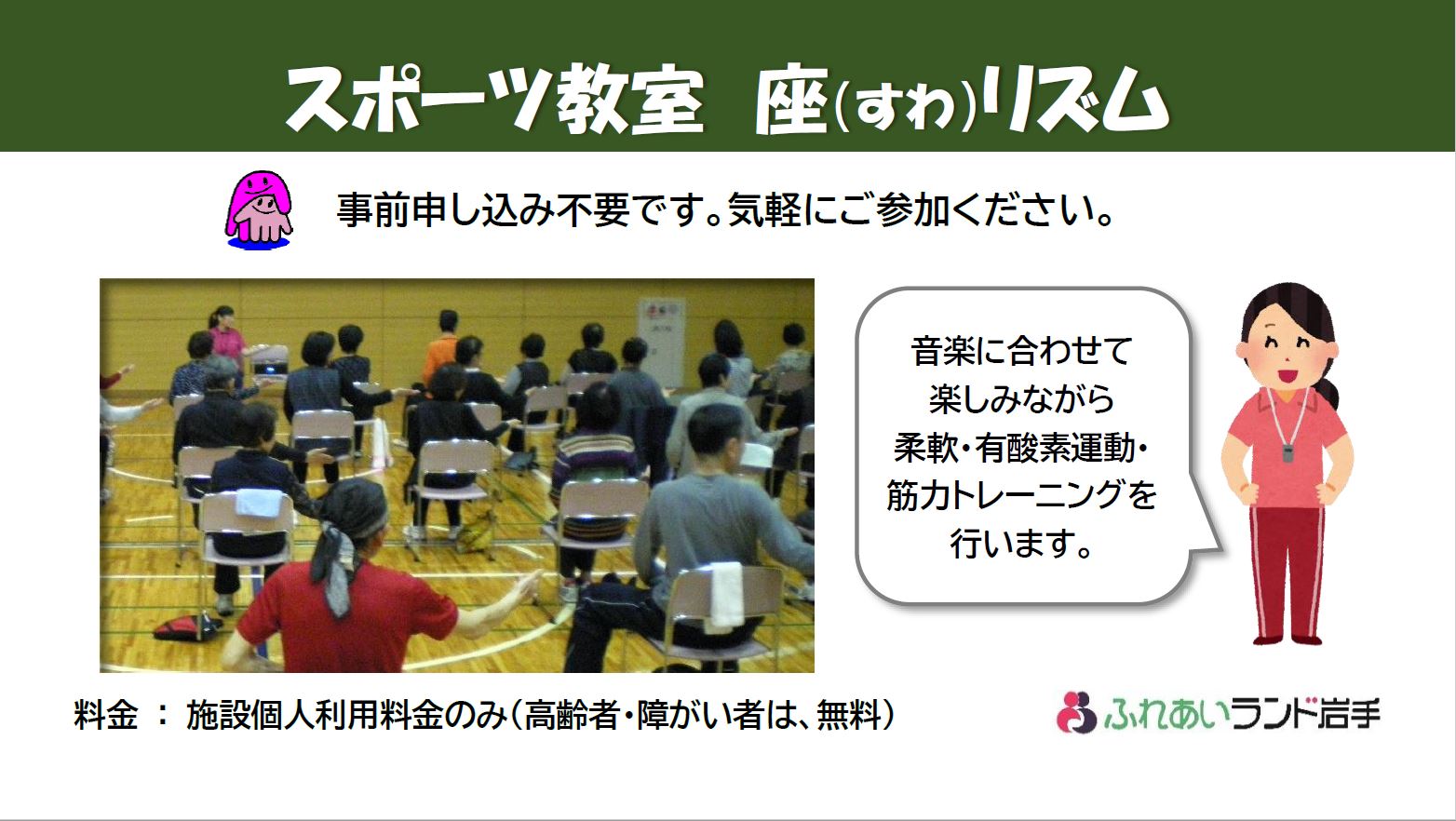 Using a chair, you can enjoy flexibility, aerobic exercise, and strength training while enjoying music.
No pre-registration required.
What to bring: Comfortable clothes, drinks, indoor shoes
---
* If you are using Fureai Land Iwate for the first time, please create a personal card at the general reception. At that time, students, senior citizens, and people with disabilities will be asked to present their ID.
---
When entering the building, please be sure to wear a mask and have your temperature taken with a thermography camera. / If your body temperature is 37.5 degrees or higher, or if you are feeling unwell or have cold symptoms, please do not attend. / If you are infected with the new coronavirus infection or become a close contact person, please follow the instructions of public health centers, medical institutions, etc.
Event date1
2022/12/20
Event date2
2023/1/10
Event date3
2023/1/24
Event date4
2023/2/7
Event date5
2023/2/21
Open time
12:00~12:45
Target
Persons with disabilities, seniors (ages 65 and over), general consultation required
Capacity
30 people (first come, first served)
Venue

Fureai Land Iwate Gymnasium

Address
8-1-3 Sanbonyanagi, Morioka City
Parking
Free (general parking lot: approx. 170 cars / friendly parking lot: approx. 30 cars)
Access
0 minute walk from "Fureai Land Iwate" bus stop, 5 minute walk from "Sanbonyanagi Gongendo" bus stop, 10 minute walk from "Sanbonyanagi" bus stop, 30 minute walk from JR Tohoku Line "Iwate-Ioka Station"
Price
Disabled and elderly people are free
Contact
Fureai Land Iwate Sports Guidance Group Te.019-637-4469
HP
Click here for official website and other related sites

※Event information is subject to change. Please see the official website for details.