za rhythm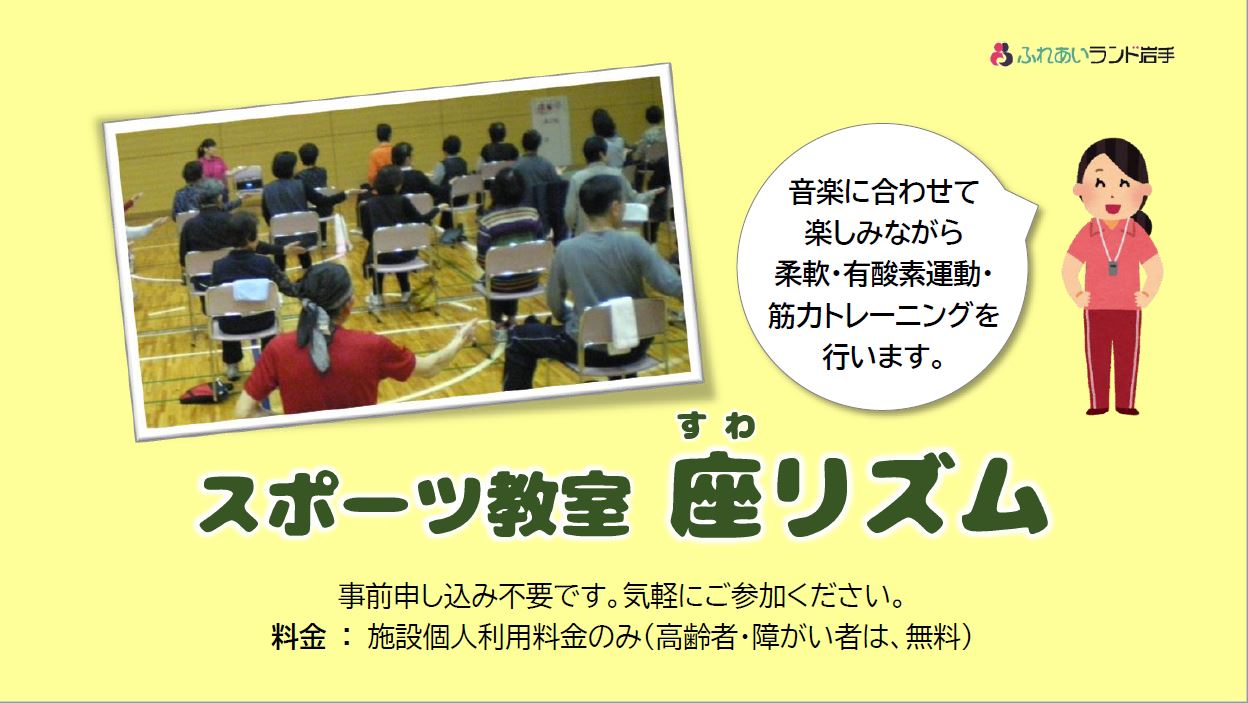 Use chairs to enjoy flexibility, aerobic exercise, and strength training while listening to music.
No advance application required.
Things to bring: Comfortable clothes for exercise, drinks, indoor shoes
---
*If this is your first time using Fureai Land Iwate, please create a personal card at the general reception. At that time, students, elderly people, and persons with disabilities will be required to present their identification card.
Event date1
2023/9/12
Event date2
2023/9/26
Event date3
2023/10/10
Event date4
2023/10/24
Event date5
2023/11/7
Open time
12:00~12:45
Target
People with disabilities, the elderly (65 years and older), the general public
Capacity
Level 40
Venue

Fureai Land Iwate Gymnasium

Address
8-1-3 Sanbonyanagi, Morioka City
Parking
Free (General parking lot: Approx. 170 spaces / People-friendly parking lot: Approx. 30 spaces)
Access
0 minute walk from Fureai Land Iwate bus stop, 5 minute walk from Sanbonyanagi Gongendo bus stop, 10 minute walk from Sanbonyanagi bus stop, 30 minute walk from Iwate Iioka Station on the JR Tohoku Line
Price
Free for disabled and elderly people

General gymnasium usage fee (110 yen)
Contact
Fureai Land Iwate Sports Instruction Group Te.019-637-4469
HP
Click here for official website and other related sites

※Event information is subject to change. Please see the official website for details.