Sports recreation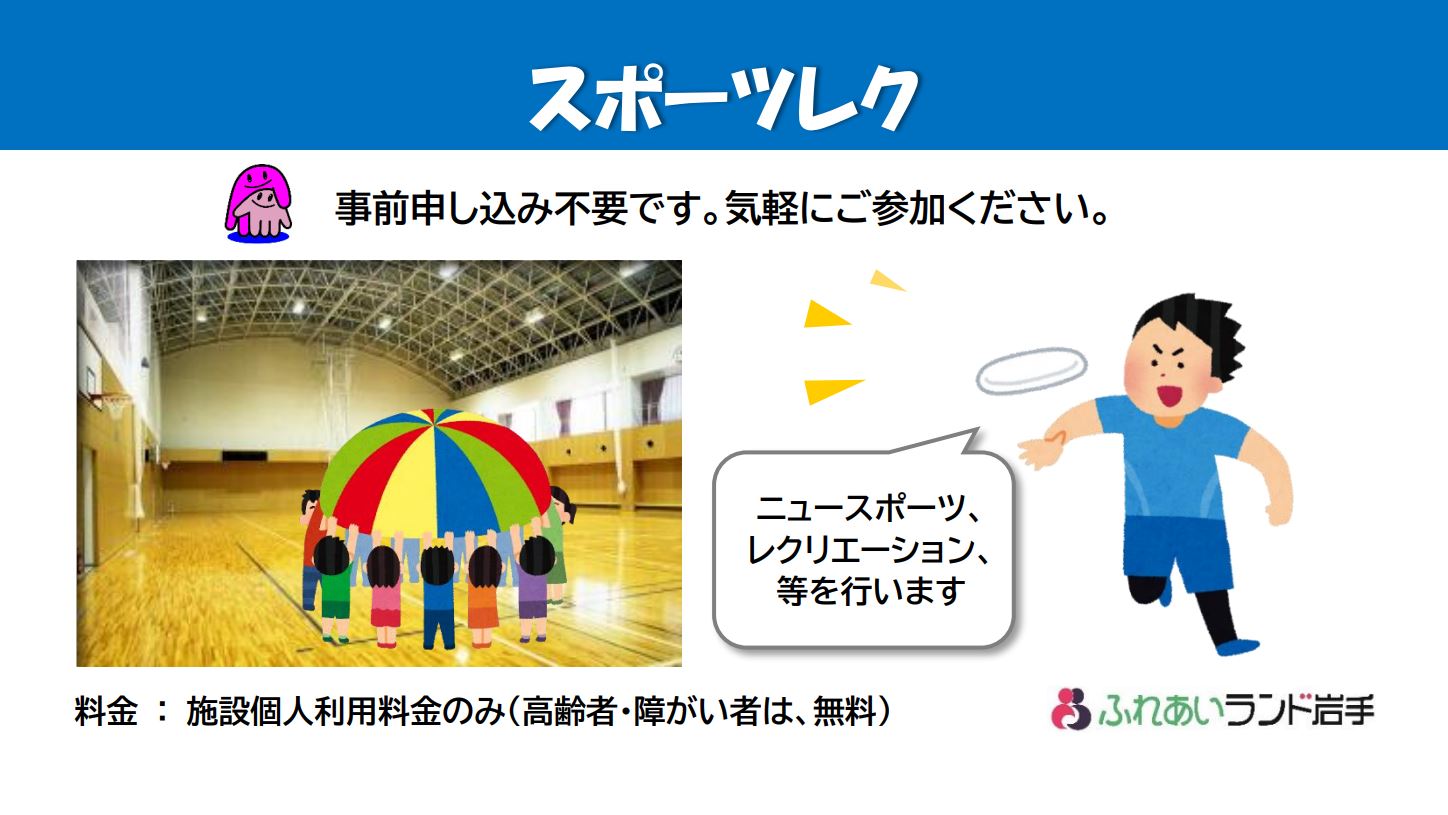 New sports, recreation, etc. will be held each time with various themes.
No prior application required.
What to bring: Inner shoes, easy-to-exercise clothes, drinks, towels
Others: If it is raining on the scheduled date and time outdoors, it will be done indoors.
---
* If you are using Fureai Land Iwate for the first time, please make a personal card at the general reception in advance. At that time, please show an ID card for the elderly, a disability certificate / specific medical expenses beneficiary card for the disabled, and a student ID for the students.
---
When entering the museum, please wear a mask and measure the temperature with a thermography camera.
In order to prevent the spread of new coronavirus infections, those who fall under the following cannot use this service, so we ask for your understanding and cooperation.
Those who have a fever of 37.5 degrees or more (within 2 weeks)

People with persistent cold symptoms (eg cough, dyspnea, general malaise, sore throat, runny nose, headache, joint / muscle pain, diarrhea, vomiting, dysgeusia, odor disorder, etc.)

Within 2 weeks, those who have a history of contact with patients with or suspected of having a new coronavirus infection (including fever in the workplace / living together) and who have a history of contact with new corona-related tests (PCR test, antigen test, etc.) ) Can not be confirmed as negative

Those who have "travel history" to other countries within 2 weeks (and those who have contact history with them in family, workplace, etc.)

Those who may have close contact with patients with new coronavirus and are within the waiting period (including voluntary waiting)
---
Event date1
2022/5/1
Event date2
2022/7/17
Event date3
2022/8/6
Event date4
2022/11/12
Event date5
2022/12/25
Open time
13:00~14:30
Target
General, students, toddlers, people with disabilities, elderly people
Capacity
20
Venue

Fureai Land Iwate Gymnasium, etc.

Address
8-1-3 Sanbonyanagi, Morioka City
Parking
Free (general parking lot: about 170 cars / human-friendly parking lot: about 30 cars)
Access
0 minutes walk from bus stop "Fureai Land Iwate", 5 minutes walk from bus stop "Sanbonyanagi Gongendo", 10 minutes walk from bus stop "Sanbonyanagi", 30 minutes walk from JR Tohoku Line "Iwate Iioka Station"
Price
General 110 yen, students 60 yen, free for people with disabilities / elderly / infants
Contact
Fureai Land Iwate Sports Guidance Group Tel.019-637-4469
HP
Click here for official website and other related sites

※Event information is subject to change. Please see the official website for details.